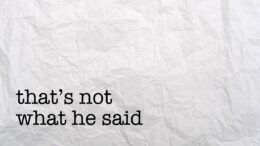 God just wants you to be happy – That's not what He said
Have you ever found yourself in a situation where you needed advice? Surely there are people in your life that know just what to say to help you feel better. But, what if the guidance you're receiving (or maybe even giving) just isn't true? What if That's Not What He Said?
During this four week series, we'll tackle some common myths about God, like "God wants you to be happy" or "God never gives you more than you can handle". Together, we'll learn how those myths have affected our lives and can keep us from having a deeper relationship with God. Bring somebody with you for "That's Not What He Said".